The Norway in a nutshell tour: Not only a great pre-designed semi-customizable tour through breathtaking fjords and UNESCO world heritage sites. The tour also takes various modes of transportation-buses, trains, and cruise by different operators and makes it into one big trip. It definitely does remove the hassle of planning and booking the whole tour by yourself, but at a cost to avoid the hassle. Tour is a great option for those who don't wish to spend time and energy on booking transportation with different companies. You can book the pre-designed tour from here.
For those who want to take up little extra work to save $$$, you can create DIY of the same tour. It certainly saves $$$, but also puts together a trip suiting your pace, interests, comfort, and priorities. Keep reading to save up, and custom build the trip.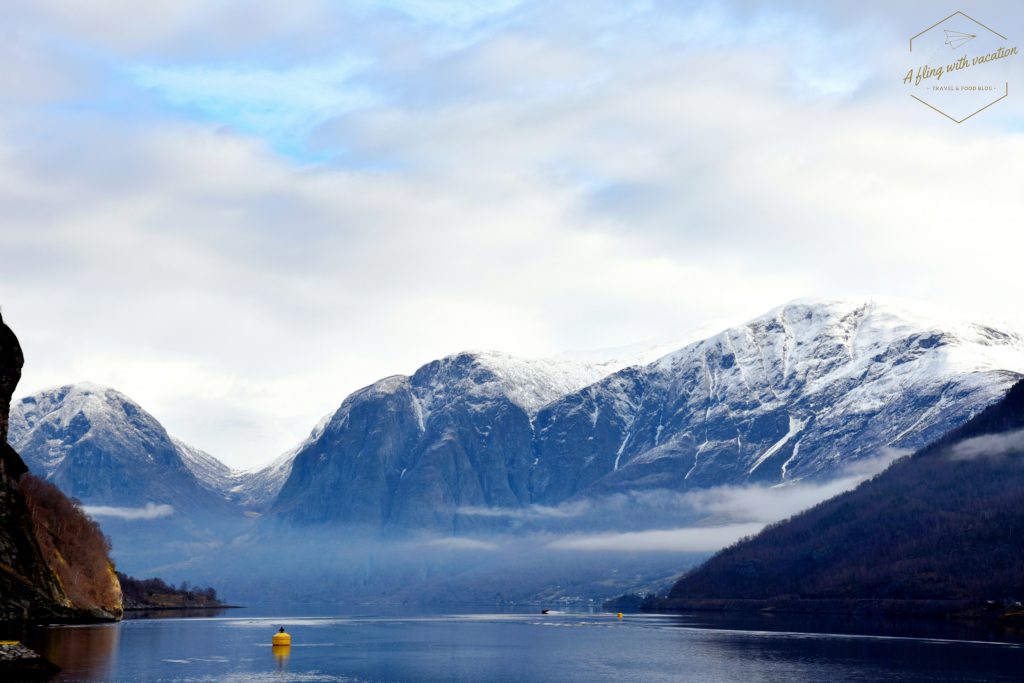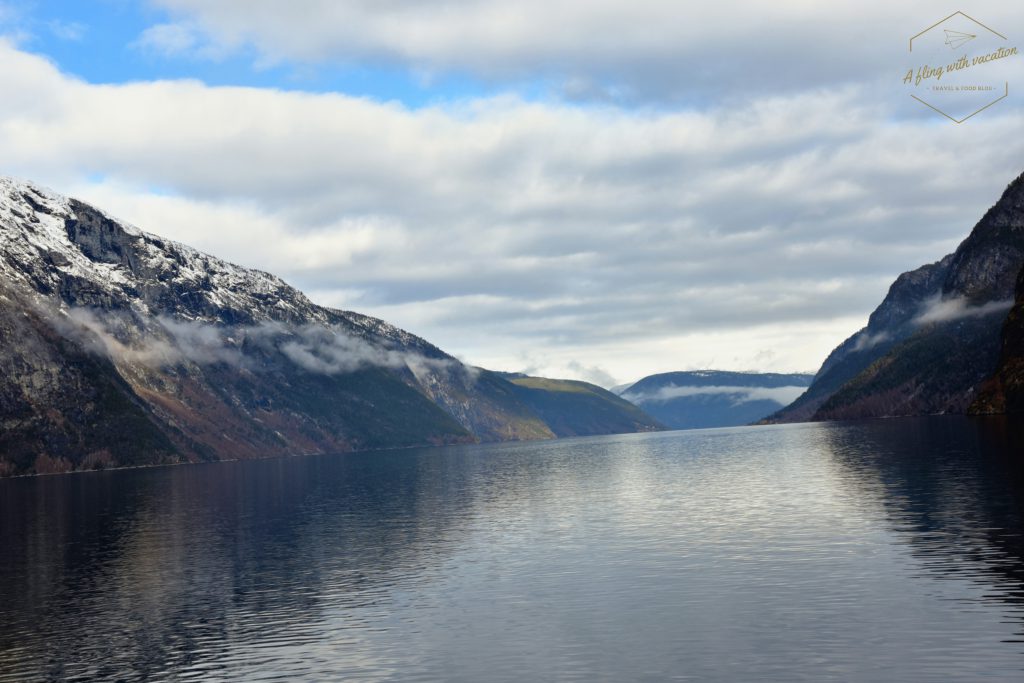 How to build your own Norway in a Nutshell tour:
Building up the Norway in a nutshell tour yourself is not a hard task. Norway in Nutshell tour booked through Fjord tours site is just a bundle of tickets from different transport operators that you can DIY.
The tour can be done from Oslo to Bergen or also the other way round from Bergen to Oslo. The modes used for traveling are buses, trains, and cruises which take you through the same route for either way.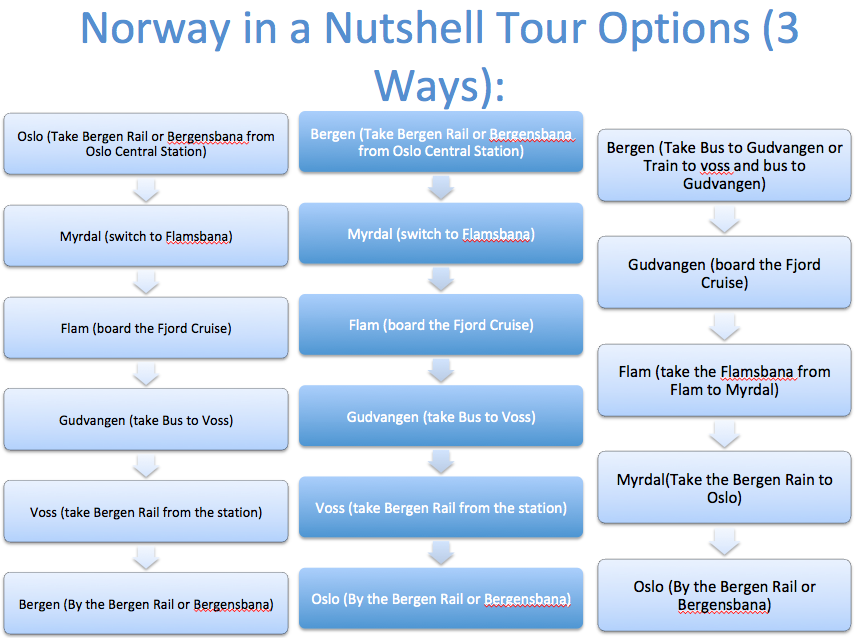 Depending upon the route you are taking you can book tickets from links below:
The details for the trip:
Whether you start from Oslo/ Bergen, take a train to Myrdal from the Bergen railway- Bergensbana. Myrdal station is an hour train ride away from Flam. Myrdal also connects the Oslo/ Bergen railway (Bergensbana) to the famous Flamsbana the Flam Rail. From Myrdal to Flam is certainly a beautiful train journey that takes you through some very scenic routes to Flam. After both the tickets are booked one side of your journey is complete.
A tip: Whole journey is beautiful, an advise is to sit on left side of train from Myrdal to Flam. The train takes a quick 10 minutes stop at the famous waterfalls.
At Flam, one could either take a night stop or continue to complete the whole trip the same day. Based on personal requirements choose and plan the tour. I stayed a night in the Fretheim Hotel, Flam and highly recommend staying one night in this breathtaking village. We also took a night stay just to soak in nature, scenic views and weather added to the experience. I enjoyed the local events happening around. For details on things to do in Flam on stop-over read post: The beautiful village not to be missed: Flam, Norway.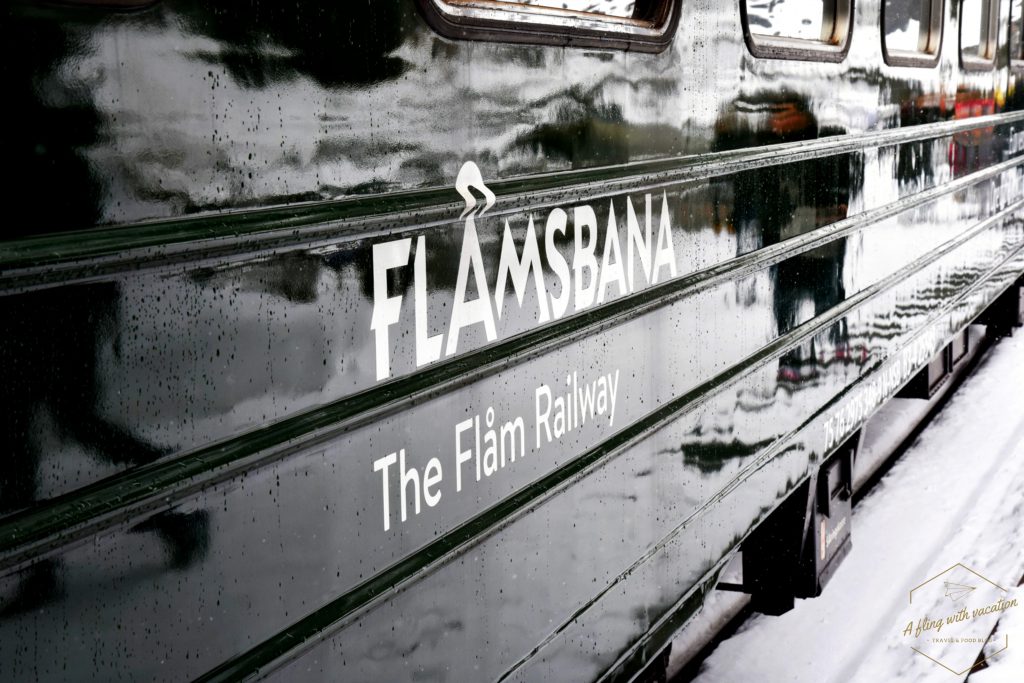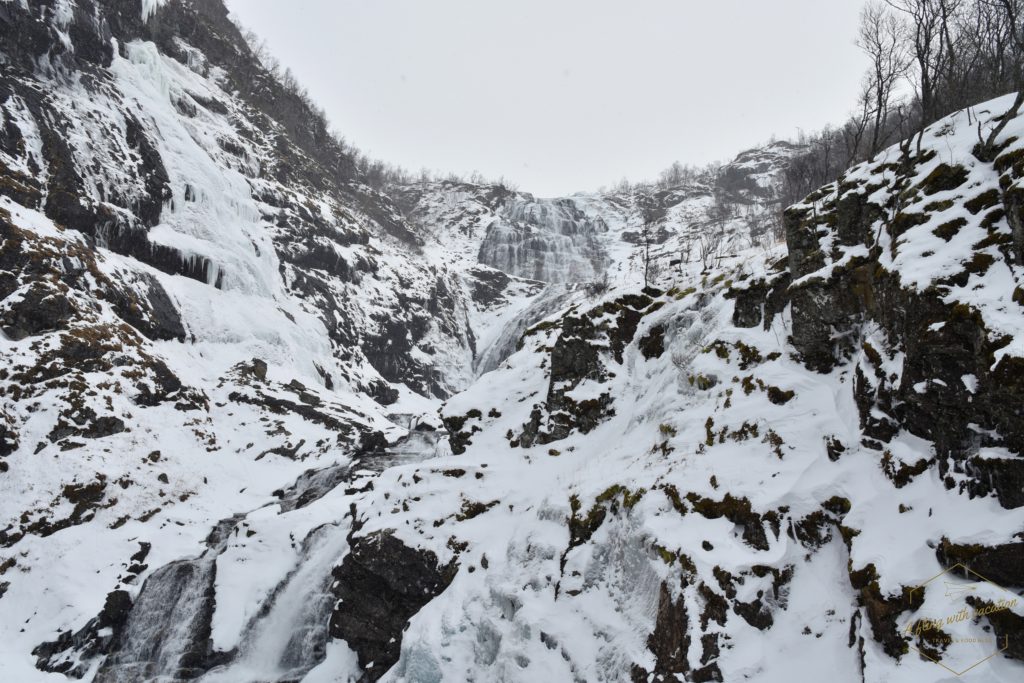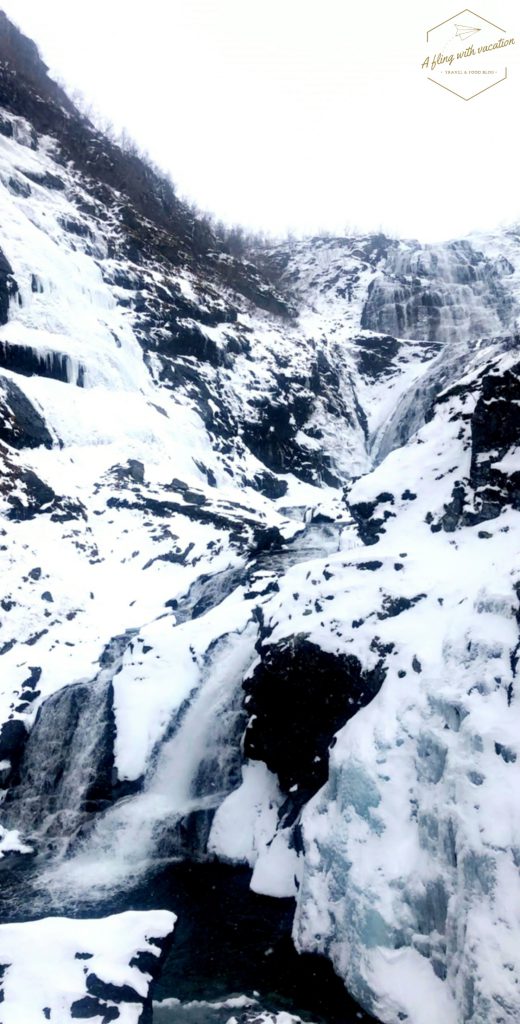 Furthermore, the next leg of the tour is on Cruise from Flam to Gudvangen. The cruise called the Fjord cruise Nærøyfjord is one of a kind experience. Not only does it take you through a whole different world surrounded with Scenic views, but also World's some of the best sights and fjords, UNESCO's world heritage sites of Nærøyfjord which is the most spectacular arm of the Sognefjord and the narrowest fjord in the world, and, Geirangerfjord with its flawless, beautiful and magnificent waterfalls. This is one of the journeys that leave you awestruck and does leave an impact on your memories. This is one journey to remember with the views to cherish for life.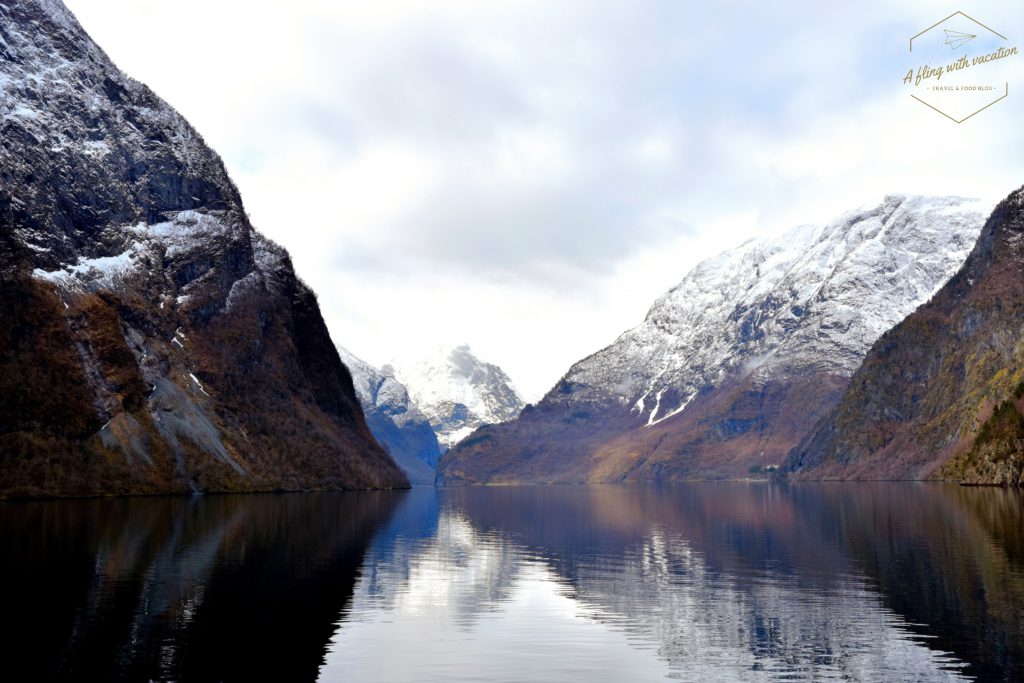 On our cruise, we journeyed at a hybrid and fully electric cruise, a no pollution emission ship with minimum sound pollution. Isn't it cool, thinking of nature while enjoying it!
While continuing your journey from the town of Vikings- Gudvangen (where I suggest you explore and enjoy for an hour if you have time to spare and go around), the tour operates on Bus from Gudvangen to Voss which is about an hour journey. Above all some buses are specifically for Norway in Nutshell tourists (as was our Bus), so most importantly check for the bus you are boarding. Never hurts to ask the driver if you are in the correct one.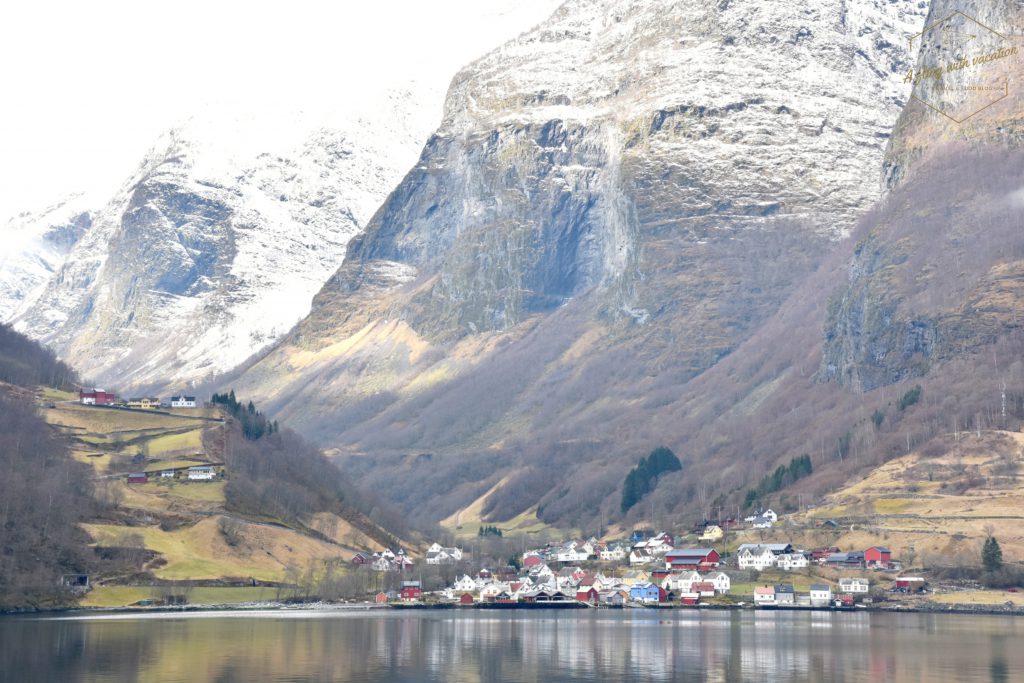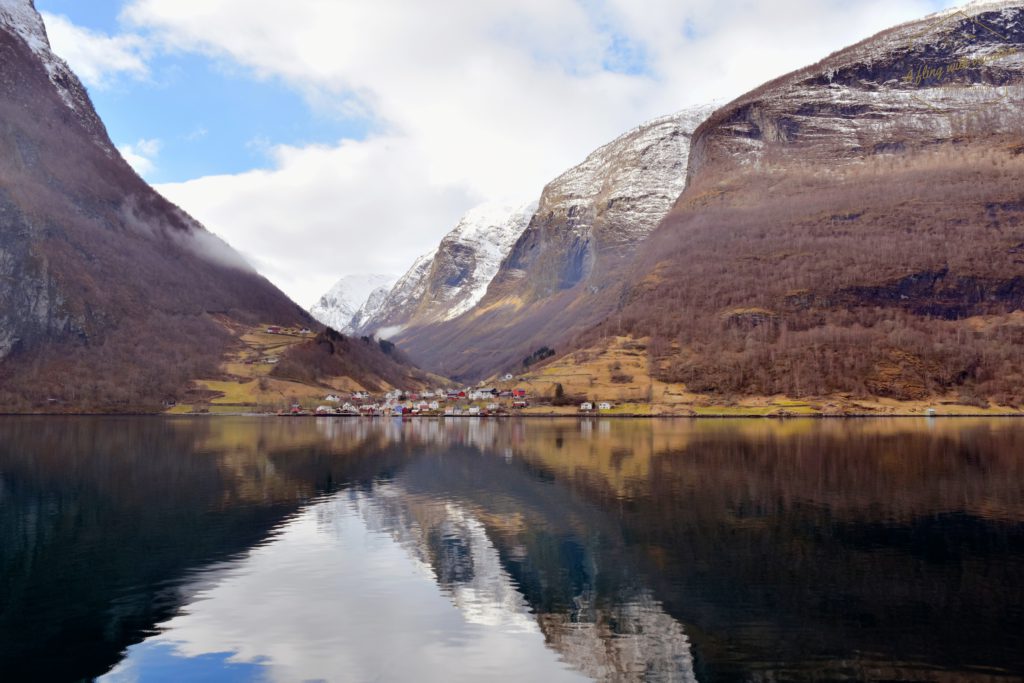 Finally from Voss, doing the last leg of the tour is super easy and you just need to book train, to either Bergen/ Oslo. Furthermore, you can rent a car and drive yourself to Bergen if you wish to. The train is operated by the same line i.e. The bergen rail or the Bergensbana which we took to reach Myrdal and connect both Oslo and Bergen from here.
A Pro Tip: Incase of an unforeseen crisis, like in our case the Bergen Rail form Voss was not working at the time of our journey, firstly, you should directly approach the individual operating company like the train operating center as an individual traveller, and not a Norway in a Nutshell traveller if you have not booked the tour through the company. (We travelled as a Norway in a Nutshell group hence, we contacted the Norway in Nutshell representative there).

Secondly, If you booked tickets yourself you are technically not Norway in a Nutshell tourist (package tour operated by the company). You are doing the same itinerary as them. Usually separate arrangements are made for package travelers and individual travelers. Upon our train cancellation, separate buses were arranged (from Voss to Bergen) for tour passengers than those for the individual travelers. In any case, all information can be seeked from the concerned transport operating company's kiosk. If any tour gets cancelled and there will be some alternate available!
The Places & Attractions along the Norway in a Nutshell tour:
Oslo: We stayed for one night at Oslo and then boarded the early morning train to Flam. For things to do on a stopover at Oslo and exploring Oslo read the post: All things to do on a short stopover at Oslo, Norway. The next morning, we started our Norway in a Nutshell tour from Oslo that ended in Bergen the following day. Our first train was from Oslo to Flam through Myrdal. We began from the Oslo S (the main station or the Oslo Central Station) at 08:00 in the morning. Then from the Oslo-Bergen railway up to Myrdal, we switched to the Flamsbana to reach Flam.
Flam: We did one night stay at Flam. To know about where we stayed and how to explore Flam on your short stay check post- The beautiful village not to be missed: Flam, Norway. One can either stay a night in Flam or leave directly to Gudvangen, though a stay at Flam is highly recommended. Thereafter from Flam, the journey continues on a boat – the fjord cruise that begins from Flam up to Gudvangen. This cruise takes you through the stunning views of Nærøyfjord and Geirangerfjord, the two UNESCO world heritage sites, so do enjoy the sights of nature at its best.
Gudvangen: After reaching Gudvangen (either after a stay in Flam or directly), the journey then continues on the bus. Then from here, one can either go by bus to Voss and then take a train from Voss to Bergen/ Oslo, or take a direct bus from Gudvangen to Bergen, or even a rental car from Voss/ Gudvangen. Also, in case you don't want to keep switching you can take the bus directly from Gudvangen to Bergen.
Bergen: For tips to explore Bergen, a beautiful place with so much to offer check: A short stopover at Bergen, Norway
How much does Norway in a Nutshell cost, and how much can you save by booking it yourself?